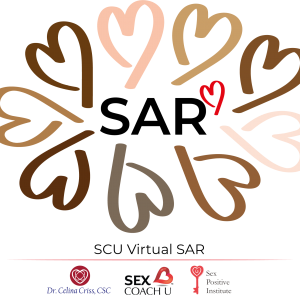 Virtual SAR training
SAR is going online! Dr. Agata Loewe and Dr. Celina Criss, on behalf of Sex Coach U, are excited to bring the unique and powerful SCU SAR Experience to you virtually! Join us this September for a weekend of introspection, discovery, community, and transformation.
Product Description
Introducing the SCU Virtual SAR training
Sexual Attitude Reassessment and Restructuring
Date: 26-27 Sept 2020
Price: 350€
300€ until 15th August 2020 (Early Bird Price)
300€ SCU Student Price
More info: virtualeurosar@gmail.com
What is SAR?
SAR, the Sexual Attitude Reassessment, was developed in the 1970s as a practical component of training for sexology students at the Institute for Advanced Study of Human Sexuality in San Francisco. This revolutionary program was created to help sexologists broaden their awareness and understanding of the vast array of human sexual behavior and expression.
Today, SAR is required for certification by American Association of Sexuality Educators, Counselors and Therapists (AASECT). It is part of the curriculum at Sex Coach U, and is recognized as an essential element of professional development for sexologists.
Who is SAR for?
SAR is designed for sexologists (e.g. relationship psychologists, sex therapists, sex coaches, body workers, and spiritual sex teachers) and professionals working in allied fields (e.g. doctors, therapists, clergy, and social workers). This means that if addressing sex and sexuality with clients is part of your work, SAR is for you!
What does SAR look like?
SAR is a highly provocative, experiential, cognitive and affective experience. It is designed to push comfort levels and elicit feelings. SAR training helps professionals develop their sensitivity and knowledge about sexuality by exploring their own attitudes, knowledge, values, and beliefs.
The training can be a life-changing experience: a breakthrough to realize boundaries and, maybe, curiosity to try something new!
Presentations include media (including contemporary film, television, and art), live speakers sharing their "lived experience." and demonstrations showing a potential range of human sexual expression. There are opportunities to process and discuss in small groups with the support of a trained facilitator.
SAR is not a clinical training in sex therapy nor is it traditional sex education. It enables the participant to move emotionally, intellectually, spiritually, and psychologically into a zone of greater knowing, acceptance, and tolerance of human sexuality in its possible dimensions.
* Technical information *
The course takes place on Friday & Saturday from 10am to 6pm. There will be an optional evening event, details to follow.
As per SAR tradition, the training is accompanied by educational entertainment events within the field of sexuality. Details of the accompanying events will be given to prospective participants by email.
Who leads the training?
Agata Loewe, PhD, and Celina Criss, PhD, CSC, will lead this SAR. Both have been trained by Dr. Patti Britton and Dr. Robert Dunlap, co-founders of Sex Coach U, the premier training organization for certified sex coaches.
This training is supervised by Dr. Patti Britton and meets the criteria for certification by Sex Coach U and the Sex Positive Institute, Warsaw.
Dr. Agata Loewe: Agata is a Warsaw SWPS University of Social Sciences and Humanities graduate (Clinical Psychology and Social Psychology of Multicultural Relations) and a San Francisco Institute for the Advanced Study of Human Sexuality graduate, where she received her PhD degree. She did postgraduate studies at the Systemic Family Therapy Training Centre in Cracow, and is currently working toward Sex Coach U certification. She has been running GSRD Residential trainings with Dominic Davies for London-based Pink Therapy. She has been an NGO activist for the last 10 years. She offers sexological counselling and psychotherapy at the Campaign Against Homophobia and the Sex Positive Institute. She is a member of WAS and WASC. She specializes in studies on gender, sexual orientation, sexual preferences, and gender identifications, as well as relationships and alternative lifestyles.
Dr Celina Criss, CSC: Celina is the Curriculum Director at Sex Coach U and has a private practice based in Munich, Germany. She provides mentorship to sex coaches, teaches small groups, and coaches individuals and partners to create their best sex lives. Her work focuses on BDSM, communication, and sexual expression. In partnership with McArthur & McArthur Studios, she supports a sex positive, kink-friendly, international, and diverse community in Munich.
Additional Information
| | |
| --- | --- |
| Data | 26-27.09.2020 |
| Choose participant status | Standard, SCU student |